Does your body care routine stop at body wash and lotion? Does your skin still feel dry even after lotion? It is probably because you are missing an essential step to your body care regimen! Adding a body scrub to your body care routine is a similar step like when you use your facial exfoliator, except you're exfoliating your entire body.
Body scrubs are not only great for exfoliating the skin, but can help the appearance of dry dull skin! Amire cosmetics currently has four scrubs available- Tea Tree Oil Scrub, Arabica Coffee Scrub, Coconut Milk Scrub, and last but not least Honey & Alove Vera Scrub. 
Not only does our body scrubs feel great, but they smell amazing too at an AFFORDABLE price. Many other companies increase their price because of the ingredients used in their formula, but here at Amire, we strive to use natural and organic ingredients while keeping the bank account happy!
Keep scrolling to check out all of Amire Cosmetics body scrubs in more detail!
First, let's talk about the Tea Tree Oil body scrub! This is my personal favorite of the four because it is the best for giving a good exfoliation. Amire Cosmetics' Tea Tree Oil Body Scrub uses all natural ingredients like dead sea salt to give your feet and body the exfoliation it needs!
How I use the Tea Tree Oil Scrub: I love using this at the end of the week when my skin is tired and dull from everyday life. After using my normal body wash, I will finish my body care routine using this scrub. I will take a small scoop using my hand, rub my hands together to get the product on both hands. From there I will start scrubbing my ankles and feet, then make my way up my body.
This scrub feels a bit more rough on the skin than the other scrubs, so we do not recommend using it on the face. I mostly use it for my feet, legs, arms and my upper back where I get bacne, THE WORST.
Benefits: Tea tree oil has antiseptic and anti-fungus properties that can help reduce the effects of athletes foot, ringworm, nail fungus, insect bites and more! Infused with argan oil and shea butter allows the skin to stay moisturized while protecting the skin so it doesn't dry out the skin. Our dead sea salt is mined from the depts of the sea in Jordan.
For men and women! $17.99 SHOP NOW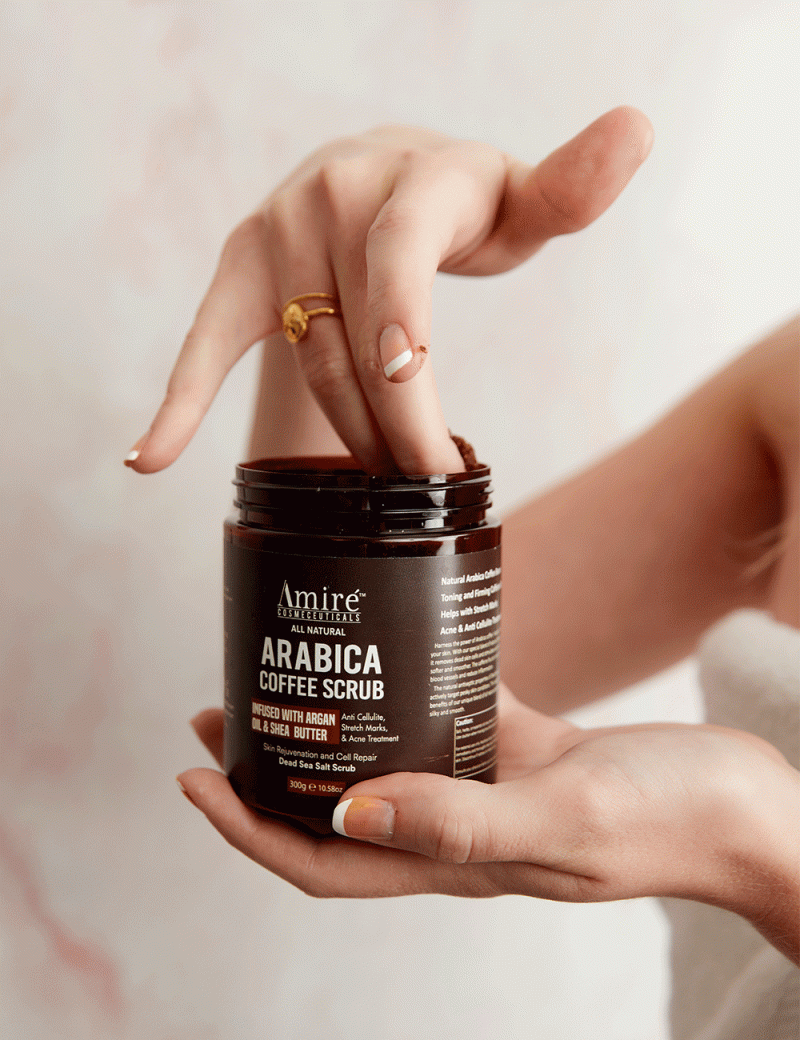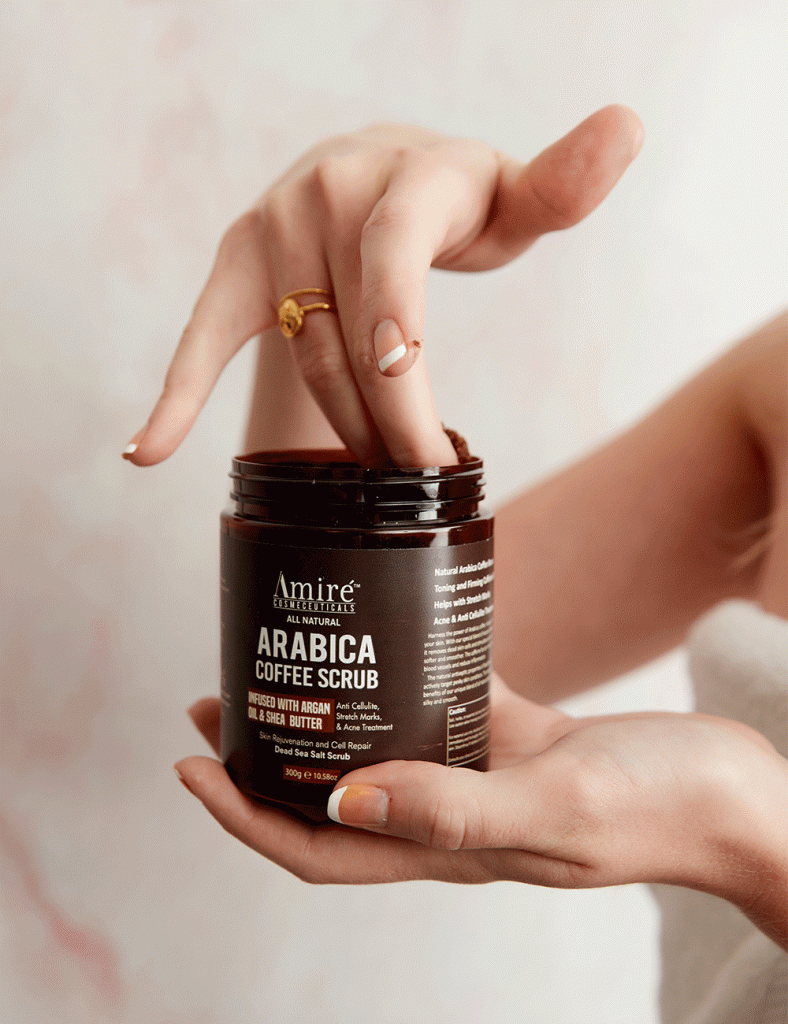 If you enjoy the wonderful smell of coffee in the morning, then you will for sure love waking your skin up with this Arabica Coffee scrub! 
How I use Arabica Coffee scrub: This coffee scrub I use just about every Monday morning before I start my day. After getting home from my morning workout, I hop in the shower, do my normal body wash routine then move onto using the scrub! Just like the Tea Tree oil scrub, I will take a small handful, rub it in both hands and start scrubbing! I start from my chest area because just like drinking coffee can help you feel more awake, coffee in skin care can help energize your skin. 
Benefits: Arabica coffee infused with argan oil, shea butter and pieces of dead sea salt work together to smooth out the skin. The coffee and dead sea salt are mechanical exfoliants, while the other ingredients help protect and moisturize. This scrub can help reduce the appearance of cellulite, stretch marks, spider veins, age spots, alleviate irriation from ezcema and acne.
For men and women! Only 17.99 Shop Now
Moving on to the Amire Cosmetics Coconut Milk scrub… Besides being a tasty ingredient to add in recipes, coconut milk is a great ingredient to add into your beauty products! This scrub leaves your skin looking glowy and radiant! 
How I use the Coconut Milk scrub: Just like the previous two scrubs mentioned, I will follow my body wash routine with this scrub, but he only time I use this is before and after shaving my legs or when I feel like my body needs a little more hydration. This scrub after rinsed off leaves your skin feeling hydrated, soft and smooth. Perfect for acting as a shaving cream and getting that nice clean shave! 
Benefits: Perfect for those of you that have dry skin! Even using the scrub a few times a week can help reduce the dryness because of the oil in the scrub which helps moisturize and hydrate your skin which is perfect for achieving that luxurious glow. And no matter what skin type you have ALL of our skin will be a bit more dry now that Fall is here and Winter is slowly approaching. This all natural body scrub can help with moisturization and hydration, premature aging and wrinkles, and aids in the  prevention of acne breakouts.  
For men and women! Only $17.99 Shop Now
Honey & Aloe Vera Body Scrub
And finally, our Honey & Alow Vera body scrub! It is the only one that is foamy and safe to use on your face! It is infused with Vitamin E and other natural ingredients to help moisturize your skin while gently exfoliating. 
Recommendations:This scrub is great for sensitive skin because it's natural ingredients have very minimal fragrance so it doesn't have that overpowering smell other scrubs may have. I also highly recommend the Honey & Aloe Vera during the winter time.  
How I use the Honey & Aloe Vera scrub: Similarly to the coconut milk scrub, I use this before and after shaving it just depends on the day which I choose to use. Or if I want to do a facial scrub that is a bit more gentle than my normal facial exfoliator, I will use this scrub. 
Benefits: Honey is a natural anti-fungal, antispectic ingredient that has antibacterial and anti-inflammatory properties. Although it is very gentle, it is tough enough to remove impurities on the skin. I'm sure most people know all the benefits of aloe vera using it as an after sunburn care treatment. Aloe Vera has soothing and antioxidant properties that help your skin look healthier instead of looking dry and aged from enviornmental damage.
For men and women! Only $17.99 Shop Now